Non-compete agreements. Are they Enforceable?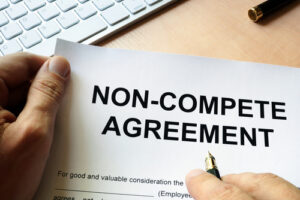 What Are Non-Compete Agreements?
Non-compete agreements are intended to protect the employer's interests in the event that an employee decides to leave his or her job to work for a competitor. Non-compete agreements, if properly drawn, may prevent the employee from taking advantage of the customers he had with his previous company. Such an agreement may also prevent the employee from divulging the company's trade secrets or confidential information.
In order to be enforceable, the non-compete agreement must not be overly restrictive to the employee. The agreement would need to protect a reasonable amount of time and a reasonable geographic area. If not, the court could determine that the agreement is much too broad and cannot be enforced.
Are Non-Compete Agreements Enforceable?
Although disfavored by the Courts as a restraint of trade, non-compete agreements, if properly written and include reasonable restrictions, are enforceable in most states. If you were to take a position that competes with the employer with whom you have a valid non-compete agreement, the non-compete agreement may well be enforced against you. In order to properly understand the extent of enforceable restrictions and any defenses to the agreement, you should contact the business lawyers at Bromberg Rosenthal LLC, as we have years of experience in defending as well as enforcing these types of agreements.
The best time to seek the advice of a small business attorney is before you sign the non-compete agreement. The other time that you need to consult with a business lawyer is when you are considering leaving your current position to take another position with a competitor.
How a Lawyer Can Help.
If you signed a non-compete agreement and have questions about it, contact us at the law offices of Bromberg Rosenthal. If your former employer threatens to enforce your non-compete agreement, the issue may go before the courts, and you will need legal representation.
Contact us today.